You do yoga. You sip green juice. You buy organic produce. And
you're
 curious about using greener, cleaner skincare—but aren't quite sure where to start. 
You've
 come to the right place.
Green skincare typically refers to formulas that are packed with botanical-based ingredients, while steering clear of potentially-toxic synthetics such as parabens, formaldehydes and artificial fragrances. Green products are also commonly thought to be sensitive-skin safe because they contain fewer chemicals, though that isn't always true. Some botanicals (hello, poison ivy) can, of course, be irritating. While many products out there aren't as safe, or as green, as they claim to be, Perricone MD has done the research to develop high-performing skincare for even the most sensitive skin that's safe, non-irritating and delivers unparalleled results.  
A green routine you can
trust
Perricone MD's Hypoallergenic CBD Sensitive Skin Therapy Collection contains four products that have all the positive green-beauty attributes outlined above (yes to botanicals, no to harmful chemicals)—and they are safe for even the most sensitive skin. The four-piece collection is also a comprehensive regimen, which makes going green goof-proof.  
"We wanted to ensure we could check off every box when it came to products that are both green and good for sensitive skin," says Rosalba Martone, Perricone MD's Director of Education. "Aside from being hypoallergenic, the products are also non-comedogenic and free of the 26 known allergens as well as parabens, fragrance, gluten, sulfates, silicones, formaldehyde, butylene- and propylene-glycol, PEG, phthalates, BHA and BHT. Furthermore, this range provides the same amazing skincare benefits you get from all Perricone MD products," says Martone.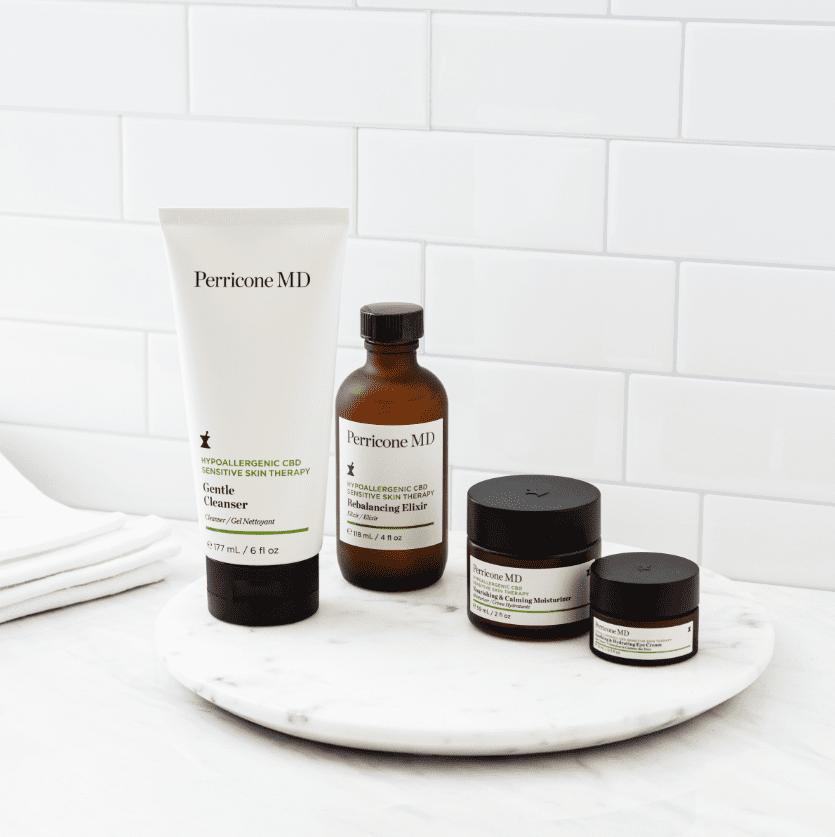 There is also ample evidence of the collection's efficacy and safety for sensitive types. In a consumer study of 102 women after 28 days, 97% of users said the Hypoallergenic CBD Sensitive Skin Therapy Nourishing & Calming Moisturiser comforted skin sans irritation; 99% said the Hypoallergenic CBD Sensitive Skin Therapy Soothing & Hydrating Eye Cream was suitable for sensitive skin; 94% said the Hypoallergenic CBD Sensitive Skin Therapy Rebalancing Elixir left the skin soft and smooth; and 97% found the Hypoallergenic CBD Sensitive Skin Therapy Gentle Cleanser non-irritating.  
In addition, when the four products were used together as a regimen for four weeks, those tested showed significant improvement in skin hydration, skin elasticity, radiance, texture, tone, tightness—and a significant reduction in the appearance of fine lines, wrinkles and crepiness. Thus, Perricone MD's green regimen has been clinically tested and proven to deliver unparalleled results without compromising sensitive skin. 
And what about the CBD? It's sensitive-skin safe, too. "We utilize 99% pure Cannabidiol, which is also known as CBD isolate. This means that our products only contain the phytocannabinoid CBD, and zero traces of any other phytocannabinoids, including THC. CBD isolate has been proven to be the most effective phytocannabinoid when it comes to calming and soothing skin," explains Martone. 
Ready
 to go green?
This is your new clean routine: stock up on this CBD-infused skincare collection for sensitive skin, then use them in this sequence: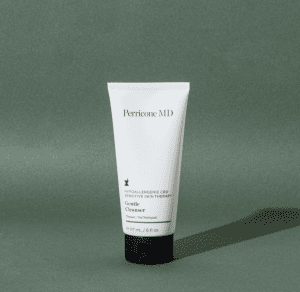 Benefits: Combats irritation and dryness, while gently removing dirt and oil buildup. 
What to expect: This gentle, low-foaming wash removes impurities without stripping the skin of essential moisture. The result: skin feels refreshed and moisturized.  
Key ingredients: CBD, a naturally-derived ingredient from the hemp plant, soothes and moisturizes; cannabis sativa seed oil, a non-comedogenic ingredient expressed from hemp seed, hydrates and softens; and glycerin, a natural humectant found in plants, strengthens the skin's natural moisture barrier while also attracting and holding onto moisture in the skin. 
How to use: Dampen hands and lather a small amount in your palms, then gently massage into skin. Rinse thoroughly with warm water. Use morning and evening.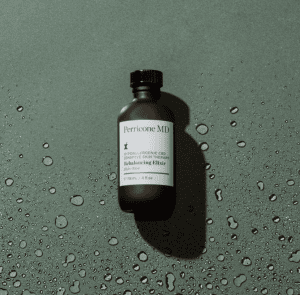 Benefits: Hydrates, boosts radiance and rebalances the skin's optimal pH level to help soothe irritation. 
What to expect: This elixir hydrates and calms instantly, as well as smooths texture and evens skin tone over time. The result: balanced, healthy, radiant skin.  
Key ingredients: An antioxidant mushroom complex, derived from Lingzhi, Shiitake and Maitake mushrooms, calms and protects the skin, fights free radical damage and promotes a balanced pH; and cherimoya fruit extract, rich in antioxidants including vitamin C, fights free radicals and quells the discomfort of angry, sensitive skin.  
How to use: After cleansing, shake the bottle twice into your hand. Then press palms together to distribute the elixir and pat your hands over the face and neck. Allow the elixir to fully absorb before applying moisturizer. Use morning and evening.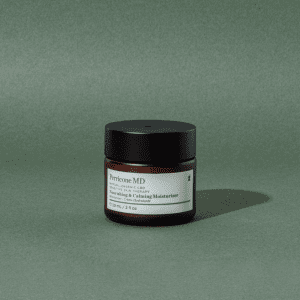 Benefits: Calms, diminishes redness, softens and smooths. 
What to expect: Lightweight and nourishing, this calming cream moisturizes and soothes even the most sensitive skin. 
Key ingredients: Licorice root extract reduces flaking, soothes irritation and visibly improves the appearance of dry, damaged skin. Buriti oil utilizes its high concentration of essential fatty acids and vitamin A to improve the feel of skin elasticity, as well as vitamin E to protect against environmental stressors. It's also worth noting that the oil in this formula is non-comedogenic and safe for all skin types. "People with sensitive skin tend to avoid products with oil because they fear it will either cause a reaction or cause them to break out. But, when we strip our skin of essential oil, it throws our natural lipid barrier out of balance and this can result in increased sensitivity," explains Martone. "So, it's extremely important that we keep this lipid barrier strengthened and healthy. The stronger and healthier the barrier, the less sensitive the skin is." 
How to use: Massage onto cleansed face and neck using a gentle upward motion. Use morning and evening.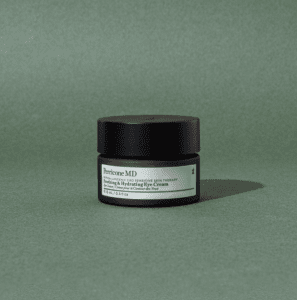 Benefits: Hydrates and soothes the sensitive, fragile skin around the eyes. 
What to expect: Deeply soothing, this nourishing eye cream provides essential hydration to the delicate eye area. 
Key ingredients: Bisabolol, a compound found in chamomile extract, brightens the appearance of skin around the eyes. Marigold extract hydrates, plumps and soothes.  
How to use: Gently pat onto the eye area using your ring finger. Use morning and evening.