The usual approach towards handling sensitive skin is to protect it at all costs. Understandably, those with it can be cautious of new ingredients, remaining loyal to the products they know. However, no matter how delicate and tender the skin, the time has come to venture away from that one cream you've been using for the past ten years. Skincare has progressed, and just because your skin is fragile does not mean that you should be missing out on the benefits of the best skincare routine for sensitive skin. Similar to dealing with a newborn baby, you want to avoid anything that may trigger your sensitive skin. However, a modern-day, full skincare regime can exist for every skin type.
Here's all you need to know about the best skincare routine for sensitive skin.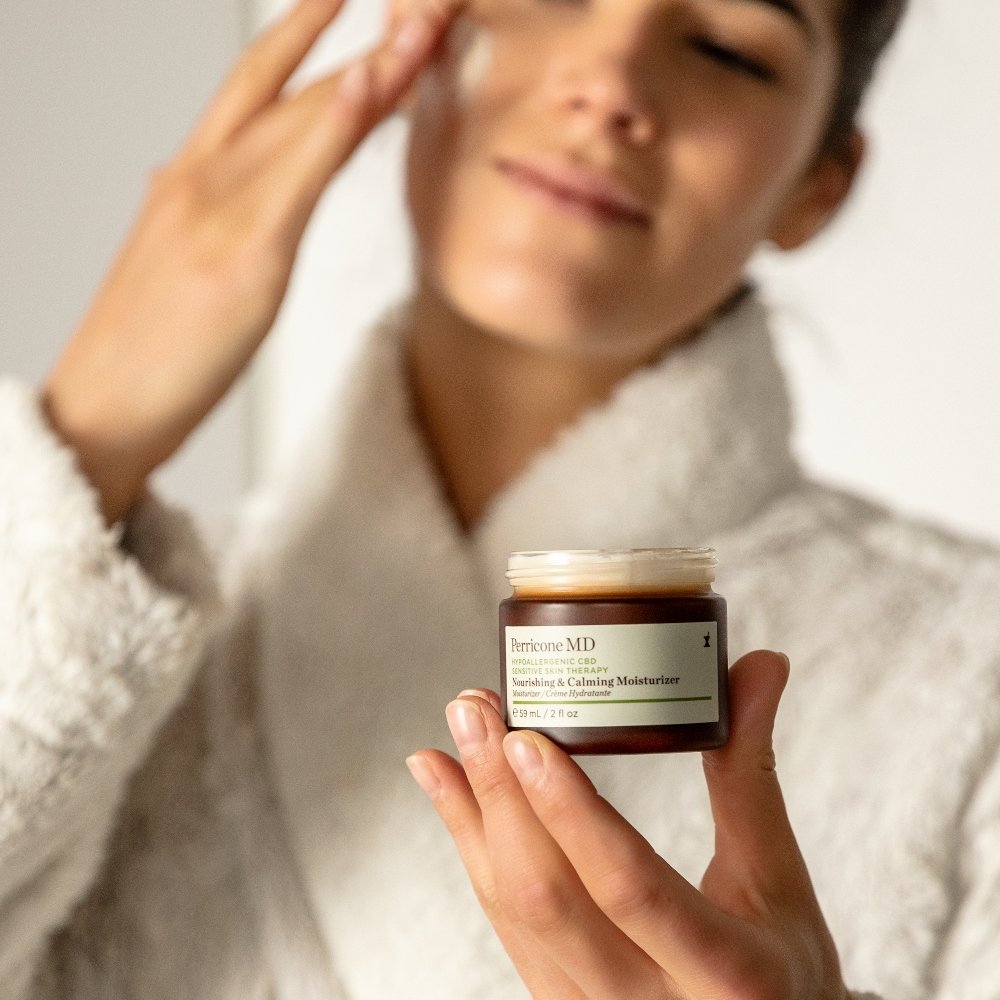 What is sensitive skin?
Let's begin by revealing what exactly sensitive skin is.
Today, sensitive skin is becoming more frequently self-diagnosed. However, with the multitude of acids and other active ingredients that are on the market, your skin may simply need a break from the constant chemical and physical exfoliation. What sensitive skin is differs from skin that is simply being over-stimulated with harsh ingredients.
So, what is sensitive skin and how do you know if you have it?
According to Medical News Today, what sensitive skin is "generally refers to skin that is more prone to inflammation," although the cause of this inflammation may differ for each person.
People with generally sensitive skin usually have reactions to things such as chemicals, dyes, and fragrances present in products. As well as this, sensitivity can come up in irritation or rashes from physical contact with the skin.
Sensitive skin can be developed at any stage of life. Keep an eye out for red blotches, itchiness, stinging, and areas of irritation. These are your red flags that your skin may need some extra caution when it comes to stocking up on skincare.
What ingredients should sensitive skin avoid?
If you've established that this skin-type sounds a lot like yours, you may be wondering what ingredients should sensitive skin avoid?
To answer this question simply, the fact is that sensitive skin should avoid a multitude of ingredients that other skin-types can tolerate.
This is why, instead of getting overwhelmed with the lists of potential ingredients that could have an effect on your skin and cause a reaction, it's best to opt for skincare that is specifically designed with this skin-type in mind.
For example, Perricone MD's Sensitive Skin Range is free from the 26 known allergens found in cosmetics, which are usually the primary ingredients that should be avoided by sensitive skin. As well as this, this range has found kinder yet equally effective alternatives to some ingredients that are considered safe in regular skincare. It has been specially curated to avoid any potential irritants to provide the best skincare for sensitive skin.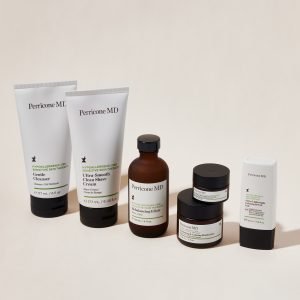 CBD Skincare Benefits for Sensitive skin
Cannabidiol, otherwise known as CBD, is certainly a buzzword in the health and wellness industry and has now travelled into skincare. This area of the Cannabis plant is rich in cannabinoids that can help to reduce anxiety, reduce inflammation and relax muscles. A point to note, however, is that it contains almost undetectable levels of THC, the well-known intoxicating part of the Cannabis plant.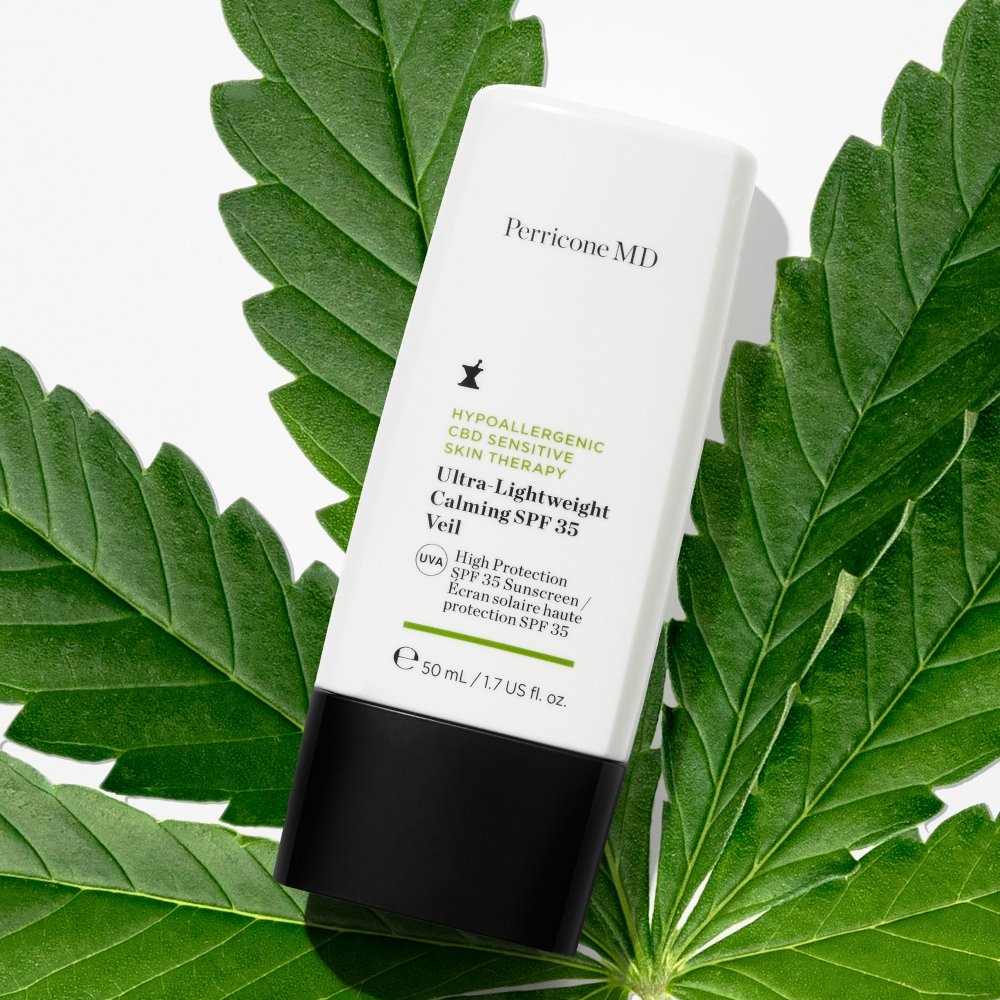 But moving on to what we really care about: the CBD skincare benefits. In fact, CBD skincare benefits are particularly useful for sensitivity. Its soothing and calming properties can help to minimise the flare-ups that occur with skin sensitivity, such as redness and irritation. It's also full of antioxidants which work to counteract free-radical damage. This can reduce the look of inflammation, another plus for sensitive skin.
What skincare products are best for sensitive skin?
The skincare products that are best for sensitive skin are those which are gentle yet effective. Perricone MD's Sensitive Skin Therapy Range has been tested, clinically proven and recognised by the National Psoriasis Foundation as being suitable for those with even the most delicate of skin. It contains all the essentials that make up the best skincare routine for sensitive skin.
We spoke about the benefits of CBD for sensitive skin and what makes this collection unique is that it is not just made from CBD, but 99% pure Cannabidiol to deliver natural, calming, soothing and nourishing benefits. This is CBD at its most potent state, free of impurities to promote a healthier-looking complexion.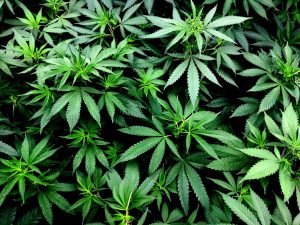 So, what are the skincare products that are best for sensitive skin?
Firstly, every skincare routine needs a cleanser. However, there's not always a need for intense scrubbing, especially first thing in the morning. The Hypoallergenic CBD Sensitive Skin Therapy Gentle Cleanser is a gentle, low-foaming cleanser designed to effectively remove dirt and oil without stripping skin of essential moisture. It leaves sensitive skin looking and feeling thoroughly cleansed and moisturised without drying or irritating.
Next, sensitive skin can often be lacking in hydration which leads to that tight discomfort. It's important to keep it well moisturised to last throughout the day. The Hypoallergenic CBD Sensitive Skin Therapy Nourishing & Calming Moisturiser is a lightweight, nourishing cream that you can massage gently into the skin in the morning and before bed. This formula absorbs quickly to moisturise and soothe the most sensitive skin and is designed to calm, hydrate and visibly reduce redness for a healthy-looking complexion.
Lastly, there is of course, SPF. Before stepping foot outside, a layer of SPF over the face is always essential. The Hypoallergenic CBD Sensitive Skin Therapy Ultra-Lightweight Calming SPF 35 Veil is a lightweight veil that delivers powerful broad spectrum UVA/UVB protection whilst leaving the skin feeling calmed and soothed with nourishing Cannabidiol and skin-softening Cannabis Sativa Seed Oil.
How to shave sensitive skin
Now that you've been filled in on the best skincare for sensitive skin, you can rest assured knowing your face will receive all of the nourishment with none of the irritation. If the rest of the skin on your body is equally reactive, you may need to look into treating it with the same care and kindness. Why not start by taking a look at our guide on How To Shave When You Have Sensitive Skin.
Shop This Post: