Growing up, we were told that our vitamins are important. The why didn't necessarily matter. All we knew is that to live our best lives, we must eat foods containing these miracle substances. As adults, whilst we may be eating our balanced meals and salads full of skin-loving ingredients, we realise that vitamins aren't limited to our diets. As a result, they are now a huge component of our skincare too. However, there is a certain confusion over which vitamin does what. So today, let's answer the much-asked question- what does vitamin E do for your skin? From its benefits to its sources, here's all you need to know about vitamin E skincare.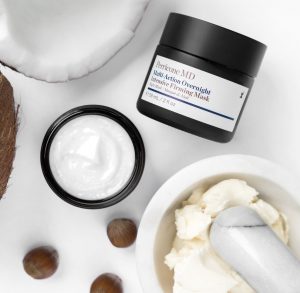 What is vitamin E skincare?
Vitamin E is found naturally in the sebum of our skin's barrier. However, there are a few things that can cause our levels of vitamin E to decrease.
The natural process of aging
Extreme temperatures during the Winter (those long, hot showers aren't actually your friend)
Using harsh skincare that strips our skin's moisture barrier
Exposure to the sun's UV rays
All of the above can have a negative impact on vitamin E levels in the skin. This means that as we progress through life, the effectiveness of what vitamin E does for the skin is hindered. Luckily, there is vitamin E skincare to help.
What does vitamin E do for your skin when applied topically?
Vitamin E skincare means we can apply it topically to replenish our complexions where they may be lacking in this key ingredient. It's usually found in products that are used to moisturise and rebalance the skin's moisture barrier. For example, Perricone MD's Multi-Action Overnight Intensive Firming Mask uses coconut oil, packed with vitamin E, to deeply hydrate for healthier, radiant-looking skin. What's more, the low molecular weight of vitamin E skincare makes it highly absorbable for superior conditioning and hydration.