A certain scene comes to mind when you imagine an evening of self-care. It can often involve a candle-lit room, a poorly rated rom-com, an ordered-in meal and of course, a sheet mask covering the face. Having said this, there are some variables. There are those who choose books over mindless entertainment and those with a preference for home-made food. However, what can be agreed upon is that a sheet mask has been undeniably linked to this vision of selfcare from day one. In fact, they are so intrinsically linked with pampering that many have began to question, what do sheet masks do for your skin?
Luckily, the role of a sheet mask goes far beyond a source of comfort. Keep reading to learn exactly what sheet masks do for the skin and how to use them in your routine.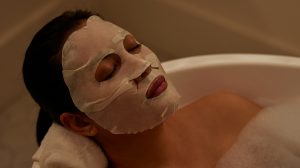 What do sheet masks do?
To begin, what sheet masks do is determined by the mask itself. Its effectiveness for the skin is entirely based on its ingredients and the quality of these ingredients. For fast results, it is best to choose a mask that contains a concentrated dose of the ingredients that work together to achieve your ideal complexion.
Perricone MD's Cold Plasma Plus+ Concentrated Treatment Sheet Mask has been formulated with Vitamin C Ester, Copper Tripeptide and Phospholipids.