The world of skincare has developed dramatically. The fact that we once cleansed with baby wipes now seems like a horrible joke. Looking after our skin has taken a front seat and we're constantly learning more about our unique skin-needs. From reducing pore appearance to concealing an uneven skin-tone, we have discovered that there's an ingredient for that. However, all of this evolution in skincare can be both a blessing and a curse. If you're feeling overwhelmed, we understand. Especially since these ingredients unfortunately cannot all be lathered onto the face in one go. Let's take a look at two of the most talked about ingredients at the moment: Retinol and Niacinamide. Both key ingredients in many skincare wonder products today, but can you use Niacinamide with Retinol?
As two ingredients that clash with others, it makes sense to be skeptical about using Niacinamide and Retinol together. Let's look at them in more detail.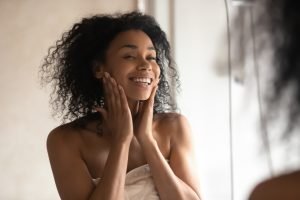 What are the benefits of Niacinamide for skin?
Firstly let's discuss Niacinamide and its benefits for the skin.
Niacinamide is one of the ingredients that has managed to stand out in a saturated environment and there's many reasons for this. Also known as Vitamin B3, Niacinamide is bursting with skin benefits. From imperfections to dullness, Niacinamide can be the addition your skincare is crying out for. For example, it works to visibly minimise the look of blemishes, improve the appearance of an uneven skin tone and help out a tired complexion by supporting the skin's moisture barrier. The way in which it can help the skin look less tired and visibly brighten the appearance of dullness is why this ingredient is a star in eye creams, such as Perricone MD's Neuropeptide Firming & Illuminating Under-Eye Cream.