If there's one thing our bodies need constantly, it's hydration — inside and out. No matter what season it is, our bodies require moisture, and as it gradually gets warmer, the sun will begin zapping it from our skin more regularly. That's one of the many benefits of hyaluronic acid for the skin and why it is essential. It's a powerful humectant found naturally throughout our bodies that keeps your skin replenished with the hydration it craves. 
 Let's take a deep dive into this superior moisturizing ingredient. 
What Are the Benefits of Hyaluronic Acid for the Skin?
Hyaluronic acid is a natural substance found in our skin, eyes and joints. While many of us were once unable to pronounce its name, we now can't escape it since this powerful hydrator has become increasingly popular in the beauty world, particularly as a go-to ingredient in skincare. With a unique capacity to retain water, there's no wonder it's taken the industry by storm. 
Since the hyaluronic acid in our bodies — nearly 50% of which is found in our skin – depletes over time, the skin loses one of its vital moisture-retaining molecules as we age. This results in gradual sagging and loss of volume, firmness, plumpness and hydration. 
For this reason, while hyaluronic acid's benefits for the skin have an unmatched ability to fend off dryness, hyaluronic acid has also proven to have a noticeable anti-aging effect on the skin. When applied topically, some age-defying benefits include: plumping, smoothing, firming and even significantly reducing the appearance of fine lines and wrinkles. Incorporating hyaluronic acid in your skincare regimen is practically foolproof for all skin types, but especially those with dry, dehydrated skin. 
What Should I Look for When Buying Hyaluronic Acid?
When choosing which hyaluronic acid products to incorporate in your skincare regimen, it's important to keep in mind that not all hyaluronic acid is created equal. Believe it or not, the hyaluronic acid in serums and moisturizers often comes in different forms or molecular weights. 
The smaller the molecule, the deeper the ingredient can penetrate to reach lower layers of the skin (the dermis) while the larger molecules hydrate closer to the surface (the epidermis). Seeing as though both are important for reaping the full skin benefits of hyaluronic acid and achieving optimal results, consider incorporating products formulated with multiple forms of hyaluronic acid. 
After all, topical application of this beneficial ingredient supports the skin's natural ability to retain moisture in every layer of skin, so adding a multi-form hyaluronic acid to your routine will help you achieve a youthful radiance from within.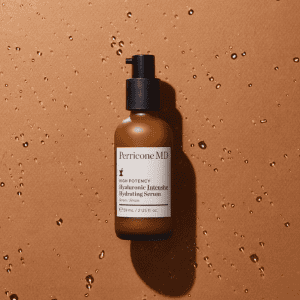 Our intensely nourishing High Potency Hyaluronic Intensive Hydrating Serum is far more than your standard hyaluronic acid serum. It's uniquely designed with 4 forms and 2 natural building blocks of hyaluronic acid, an exclusive technology known as the Hyaluronic 4 + 2 Complex. 
"We utilize 4 forms of hyaluronic acid, all of which work in different layers of the skin to create a three-dimensional matrix of hydration," Rosalba Martone, Director of Education for Perricone MD, says. "In addition, we feature 2 natural building blocks of hyaluronic acid." 
This Hyaluronic 4 + 2 Complex, therefore, has both an instant and long-lasting effect, helping to increase the feel of skin cushion, reduce the appearance of fine lines and wrinkles and replenish essential moisture. 
Martone adds, "This exclusive technology allows the skin to create and hold onto more of its own moisture." In doing so, it visibly smooths, firms and plumps your skin, leaving it looking soft, supple and rejuvenated. 
How to Use Hyaluronic Acid & How Often Should You Use Hyaluronic Acid?
To reap the full skin benefits of a hyaluronic acid serum, Martone recommends a certain way of applying it. How to use hyaluronic acid most affectively is straight onto clean, damp skin up to twice a day. Why damp skin? Because hyaluronic acid binds to and retains water, which means that when it's applied to a dry face, it can pull water from your skin causing transepidermal water loss. Applying hyaluronic acid to damp skin will allow the ingredient to absorb and retain the excess water instead. 
Once fully absorbed, follow with a moisturizer, proceed with the rest of your skincare routine and then apply makeup, if desired. Remember! Hydrated skin doesn't just look beautiful bare, it also creates a better canvas for makeup application as it helps to minimize texture under foundation and concealer. A win-win!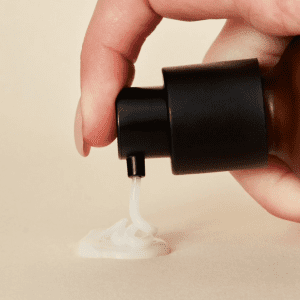 When it comes down to it, there's a reason hyaluronic acid has built a reputation as a go-to source for hydration. Once you know how to use hyaluronic acid in your skincare regimen, you'll experience the many benefits of hyaluronic acid for the skin firsthand and notice your skin looks more nourished, plump, smooth and firm.  
Shop This Post: