It has been a long winter and felt even longer due to the ongoing COVID-19 pandemic. We were home more. We travelled less (or not at all). We embraced cozy loungewear and some of us haven't worn a single swipe of makeup since last year. But now that warmer weather and longer days are on the horizon (along with a sense of hope), it's time to shake the winter blahs and emerge looking brighter and refreshed. And that starts with your skin. Here's how to get a more fresh, glowing complexion through your skincare and makeup routine.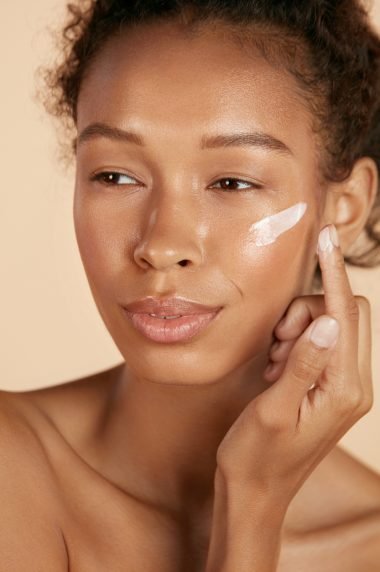 The dull skin solution
First, let's talk about where dull skin comes from. During the winter months, you're spending a lot of time inside. Last summer's sun-kissed glow is long gone, and you may even be left with an uneven complexion as a result of it. Plus, there's dryness to contend with. The moisture content in the air is extremely low both outside and inside (you can thank dry indoor heating for that), and that means your skin can't get the moisture it needs from the environment around you.  When skin isn't optimally hydrated, it doesn't function at its best. As a result, your complexion takes on a dull, ashen look. And when skin is dehydrated, fine lines and wrinkles tend to look more obvious. 
So, what can you do to shed that dead, dull layer and start fresh this spring? It starts with a solid skincare routine, specifically one that's infused with vitamin C. 
The benefits of vitamin C
Vitamin C is a powerhouse skincare ingredient and antioxidant, which means it can neutralize damaging free radicals unleashed by environmental aggressors such as UV rays. Vitamin C protects skin from incurring future skin-dulling damage. It's also a topical skin brightener by promoting a more radiant complexion and it works to even out skin tone.
The downside of vitamin C is that it's often an unstable, tricky ingredient to use in skincare products and it can be irritating. Some formulations can break down in the bottle, making it completely ineffective by the time it reaches your skin. Perricone MD uses their proprietary Vitamin C Ester, a stable, non-acidic and more potent form of vitamin C. Specifically, in the Vitamin C Ester CCC+ Ferulic Brightening Complex 20% , Vitamin C Ester is combined with two other highly stable forms of vitamin C. The result is an incredibly supercharged brightening and smoothing formula with the highest concentration of vitamin C in all Perricone MD products.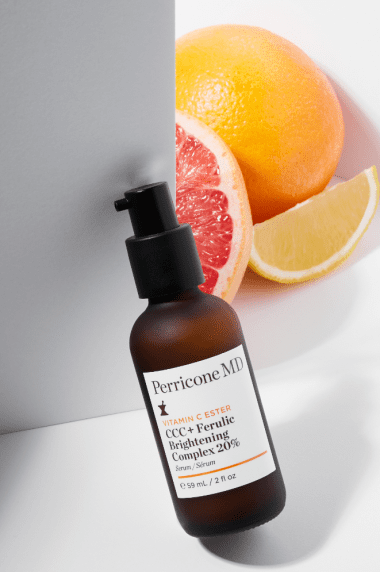 Your Vitamin C Ester skincare regimen
To harness the benefits of vitamin C, get the powerful antioxidant in multiple steps of your daily routine. Here's your powerful, skin-brightening skincare regimen:
Cleanse

: Start with the

Vitamin C Ester Citrus Brightening Cleanser

. The gel-based facial wash effectively removes dirt and impurities without stripping skin of its essential moisture. It contains Vitamin C Ester to brighten, smooth and minimize the look of discolouration, DMAE to firm the appearance of sagging skin as well as copper complex to hydrate and energize.

Treat:

A must-have for glowing skin is the

Vitamin C Ester CCC + Ferulic Brightening Complex 20%.

This powerful brightening serum contains that highly potent triple vitamin C complex. Plus, it includes vitamin E and ferulic acid. The combination of all three ingredients visibly improves the look of discolouration and dark spots over time.

Moisturise: Round out your brightening skincare routine with High Potency Classics Face Finishing & Firming Moisturiser, which hydrates skin and imparts an instant glow without any shimmer or sparkle. "It's more like a lit from within look," says Rosalba Martone, Director of Education at Perricone MD. This face cream also contains Vitamin C Ester along with vitamin E and ultra-lightweight kukui nut seed oil. Because it's not greasy or heavy, it layers well under makeup, Martone says.
Get a glowing makeup look
There's no faster way to get glowing skin than with makeup that's infused with skincare ingredients. Perricone MD's No Makeup Skincare line gives you that instant gratification of a luminous complexion combined with skincare technology for long-term benefits. Several of the products in the line contain Vitamin C Ester in addition to Chinese ginger plant extract, a naturally-derived skin brightener that visibly combats the look of dullness and discolouration.
You don't even need brushes to apply. Your fingertips work well with the liquid formulas. The goal is to deliver a natural, glowing makeup look that looks and feels like a second skin. Here's how to use No Makeup Skincare products to boost your radiance instantly:
No Makeup Foundation Serum Broad Spectrum SPF 20

: Mix it with a couple of drops of 

No Makeup Highlighter

(read more about this product below) to up the glow factor. You get instant brightness and the combo visibly smooths and covers skin imperfections without the makeup settling into fine lines. 

No Makeup Concealer Broad Spectrum SPF 20: "

If you go one-to-two shades lighter than your skin tone, the concealer doubles as a highlighter," says Martone. Apply it in an upside-down triangle under your eyes, starting from the inner corner, drawing down toward your nose, and then up to the outer corner. Then blend well. "You get a lift and radiance in the middle part of your face," she says. 

No Makeup Highlighter:

As mentioned above, this product plays nicely with others. But it also gives skin a touch of radiance when applied alone. For a sun-kissed glow, apply it to the tops of your cheekbones and under and above the arch of the eyebrows. Then dab it in the inner corner of your eyes, on the tip of your nose and the bow of your lips.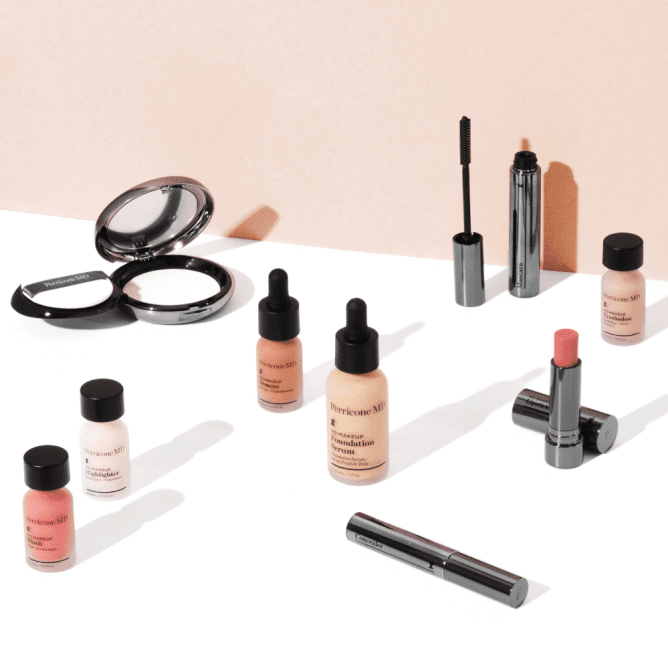 For the most glowing makeup look, skip the setting powder, says Martone. It will only dull your newfound luminosity. If you have combination or oily skin and feel like you really need powder, layer on No Makeup Instant Blur, which gives you radiance without the look of shine or oiliness.