We don't have to tell you that life as we know it has ground to a halt as we attempt to flatten the curve. Suddenly, we're working from home, teaching our kids at home, and preparing and/or cooking every single meal (a first for many of us who tend to grab our meals on the go). There's a lot about this situation that we can't control (like when it will end, or even if our toddler will make a cameo in our next zoom meeting), so we suggest focusing on what you can control, starting with your diet.
You've probably seen the memes about the "quarantine 19" weight gain, because, well, stress has a tendency to send us straight to the snack pantry. Let's face it; junk foods are comfort foods that make us feel better in the moment. But we all know how we feel afterwards: sluggish and possibly even more stressed. A better way to cope and instill a sense of control? Have quick, healthy recipes at the ready-meals that center around the anti-inflammatory diet.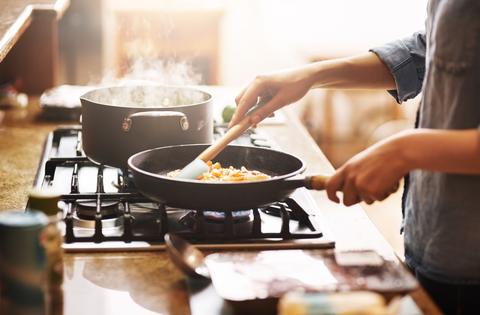 WHAT'S AN ANTI-INFLAMMATORY DIET?
An anti-inflammatory diet is one of the three tiers of Perricone MD's holistic approach to promoting healthy-looking skin and overall health and well-being.
The idea is that when you eat the right types of foods, you can help stop chronic inflammation, which damages your cells and speeds up the aging process inside your body and on the skin's surface.
So, which foods are considered anti-inflammatory?
High-quality proteins such as fish and shellfish, poultry, and tofu
Low-glycemic carbohydrates-foods that don't cause your blood sugar to spike and crash. Low glycemic carbs include fresh veggies and fruits, whole grains such as oats, plus beans and lentils.
Healthy fats such as nuts, olive oil, seeds, and fatty cold-water fish including wild Alaskan salmon, halibut, sardines, and anchovies
Antioxidant-rich fruits, vegetables, and beverages including green tea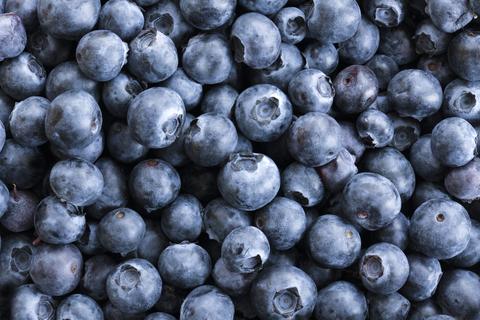 THE CONNECTION BETWEEN AN ANTI-INFLAMMATORY DIET, STRESS, YOUR BODY, AND YOUR SKIN
So, why is it important to eat this way right now (and, really, all the time)? Let's turn to the science. Stress is about inflammatory as it gets. When you're stressed out, your body releases cortisol, a hormone that triggers our fight or flight response. It's an innate process meant to protect us from a threat.
The problem is, when we're chronically stressed, those elevated cortisol levels don't return to normal and they trigger an inflammatory cascade to help fight the threat.
All that inflammation increases oxidative stress, which occurs when free radicals latch onto healthy cells, damaging the way they function. Oxidative stress is linked to everything from chronic disease to skin wrinkles.
Eating the right foods is one way to quell the inflammation (managing your stress levels and exercising help, too). When you're in this inflamed state, you certainly don't want to add fuel to the fire by eating a steady diet of pro-inflammatory starchy, sugary, and processed foods.
THE 5-STEP AT-HOME DIET TO FOLLOW RIGHT NOW
With all that you have on your proverbial plate right now (working, teaching, parenting), the last thing you need is a complicated meal plan with hard-to-follow recipes and even harder-to-find foods. You won't find that here. Instead, try our simple approach to the anti-inflammatory diet.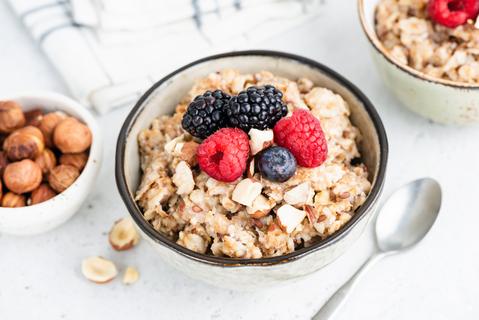 1. USE THE 5-INGREDIENT (OR LESS) RULE
Limiting trips to the supermarket means you may have to get creative and stretch out what you have in your fridge and pantry. Give yourself a daily challenge:
Create anti-inflammatory meals using less than five ingredients. Pantry staples such as canned beans and fish totally work. Don't forget to make the most use out of your frozen vegetables and fruit too.
If you're having a hard time finding produce, high quality proteins such as fish, or other healthy options at your local grocery store, check out some online resources. Wild Alaskan Company delivers wild, sustainably-sourced seafood, specifically Wild Alaskan Salmon ( a lean source of protein rich in omega 3's and antioxidants) to your doorstep.
Here's what a sample meal plan might look like:
Breakfast: Slow-cooked oatmeal, topped with slivered almonds and blueberries. Pair it with green tea.
Lunch: 4 to 6 ounces of grilled salmon (canned salmon works, too) over dark leafy greens, dressed with olive oil and a squirt of lemon. Serve with fresh melon and 8 ounces of spring water.
Dinner: Turkey burger (no bun), steamed broccoli, ¼ cup mixed berries for dessert.
2. SPICE THINGS UP
It's said that variety is the spice of life, but it's spice that adds variety to your diet. Healthy meals don't have to be bland. Not only does adding spices to your food boost the flavor factor, but many of them have anti-inflammatory properties, too. Win win.
Turmeric contains a potent compound called curcumin, a science-backed inflammation-fighter.
Cayenne pepper will turn up the heat in your food, while turning down the heat (inflammation) in your body.
Other spices with anti-inflammatory research behind them: black pepper, ginger, cinnamon, saffron, and cloves. Add a dash of one (or two!) to your next meal.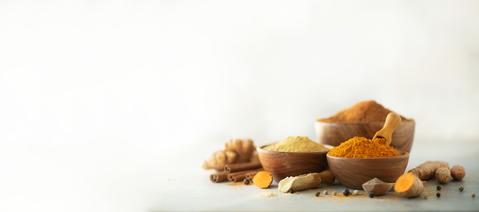 TRY THIS SIMPLE RECIPE THAT COOKS IN THESE GOOD-FOR-YOU, ANTI-INFLAMMATORY SPICES:
Cumin-Crusted Salmon Over Silky Sweet Potatoes
4 servings
Ingredients
2 large or 3 medium sweet potatoes, scrubbed and cut into 3/4 inch chunks (about 1 1/2 pounds)
2 teaspoons cumin seeds
2 teaspoons ground cardamom
3/4 teaspoon salt
4 5-ounce Alaskan King salmon fillets skin on
1/2 cup packaged sweet potato soup
2 tablespoons pepitas (pumpkin seeds), toasted
Directions
Preheat the oven to 425 degrees F. Steam or microwave the sweet potatoes in a medium bowl until very tender (8-10 minutes for steamed, 4 to 5 minutes for microwaved)
Sprinkle the cumin seeds, cardamom, and 1/4 teaspoon of the salt over the meaty sides of the salmon. Heat a large oven-proof non-stick skillet over medium-high heat until hot. Coat with cooking spray. Add the salmon, seasoned sides down; cook for 3 minutes or until browned. Turn the fillets over; place the skillet in the oven, and bake for 8-10 minutes or until the salmon is opaque in the center. Add the soup and the remaining 1/2 teaspoon salt to the hot cooked sweet potatoes. Mash with a potato masher to desired consistency. Transfer to serving plates; top with the salmon and pepitas.
3. SNACK SMARTER
Snack attacks happen-and they should.
Eating small amounts of the right foods in between meals can help keep your blood sugar stable and prevent that 3 p.m. slump when you still have to power through more of your virtual work (or school) day.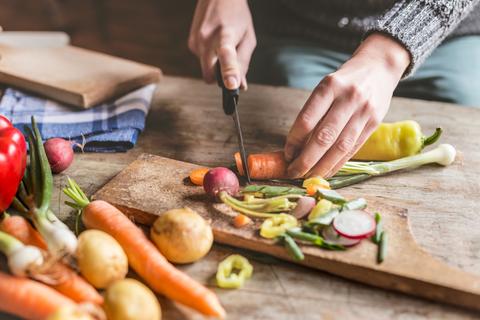 So, what should you snack on? Well, for starters, plan ahead. Having pre-cut, cleaned veggies (carrots, celery sticks, snap peas) at the ready will make it a whole lot easier to reach for the right options. Additional good – and yummy – ideas are Greek yogurt, almonds or walnuts, hard boiled eggs, berries, grapefruit, cantaloupe, and sliced turkey meat all fit the anti-inflammatory bill and leave you feeling satisfied. Feeling tempted by the cookie jar? Put it away and replace it with a bowl of green apples. This quick fix can help you stay on track when you're looking to nosh.
4. FILL IN THE GAPS WITH SUPPLEMENTS
A foolproof way to make sure you're getting a daily dose of free-radical-fighting antioxidants and essential vitamins: the Super Greens Supplement Powder.* One serving gives you as much vitamin C as four and a half tangerines, as much vitamin A as two cups of lettuce, the Riboflavin of four cups of spinach, the B6 equivalent of four bananas, and as much folic acid as four cups of papaya. We're going to guess that even that healthiest eater isn't getting that much produce in their day. *These statements have not been evaluated by the Food and Drug Administration. This product is not intended to diagnose, treat, cure, or prevent any disease.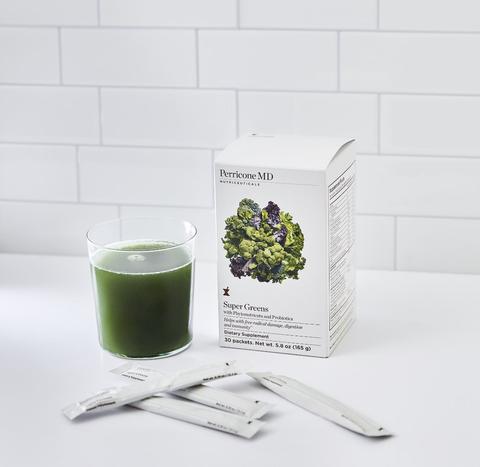 5. LIMIT ALCOHOL
Good news if you're a red wine drinker: It has proven anti-inflammatory benefits. But here's the catch: in moderation. You can get the benefits with a glass a day, but sip beyond that (or over-imbibe with any type of alcohol) and you're actually increasing those inflammation levels. So, have your glass of red for your next virtual happy hour, but after that, make it a mocktail. Better yet, make it a superfruit mocktail: Mix Super Berry Powder with Acai Supplement Powder * with sparkling water, add ice, and garnish with a few blueberries or raspberries. The supplement contains 11 super-fruits and provides amino and essential fatty acids. * These statements have not been evaluated by the Food and Drug Administration. This product is not intended to diagnose, treat, cure, or prevent any disease.
THE BOTTOM LINE:
Maintaining or even kick-starting a healthy diet during this time at home can help instill a sense of control and offset the damaging effects of stress.