Most skincare products require a little bit of hope and a whole lot of patience because in most cases, it takes roughly 8 to 12 weeks to see visible results—even with the most tried and true, proven ingredients. But what if we told you there's one science-backed ingredient that delivers dramatic, visible lifting and firming results almost instantly? Enter DMAE, short for dimethylaminoethanol, one of Perricone MD's signature science ingredients, and a key feature in many skin firming products.  
What is DMAE, exactly?
DMAE is a substance naturally found in the human body that's produced by the brain. In fact, you may have heard of DMAE because of its brain-boosting abilities. When taken as an oral supplement, it's thought to support healthy brain function and mental alertness, as well as help support a healthy metabolism. The average person should consume between 100 and 300 mg of DMAE for improved health.  
When applied topically, DMAE also has visible skincare benefits. It's not an antioxidant (ingredients that work to neutralize damage from free radicals that attach to healthy cells in an effort to become whole), but DMAE does help prevent free radical damage in a different way. DMAE is what's known as an antioxidant membrane stabilizer, which means it becomes part of the cell plasma membrane, helping the cell better protect itself against stress and offering some protection against free radical damage. When mixed with other ingredients such as amino acids and applied topically, DMAE has a dramatic lifting effect for sagging face skin. When paired with antioxidants such as vitamin C, DMAE can help boost its free-radical fighting power.  
Why does skin sag? 
Before we get deeper into how DMAE works on your skin, let's talk about skin ageing, loss of firmness and what causes sagging face skin. Skin ageing includes visible changes such as wrinkling, mottling, broken blood vessels and dullness. Some of these skin changes occur with the natural ageing process, but they can be accelerated by environmental aggressors such as UV light exposure.  
"But the face doesn't show age just because of changes in the skin's surface," Dr. Perricone writes in his book The Wrinkle Cure. "Another very significant factor is the loss of firmness." How does this happen? As we age, the muscles that help give skin its taut, toned appearance start to weaken, and so, the skin that surrounds the muscle begins to sag.  
Here's what happens: When muscles contract (like the muscles involved when you smile), there are nerves and a chemical reaction involved. One of those chemicals that tell the muscle to contract is acetylcholine. As we age, we run low on acetylcholine, so the muscle's ability to contract is diminished and the skin around your smile starts to sag. 
How DMAE can help support skin?
So, how does DMAE help with skin firming? DMAE is thought to boost levels of active acetylcholine. DMAE can be taken internally by eating foods such as fish and/or by taking an oral supplement. It also helps sagging facial skin when applied topically to your skin by producing a dramatic firming effect quickly, as well as working to better support lax skin over time. DMAE acts similar to an antioxidant, protecting against cellular damage unleashed by free radicals, the ingredient can help prevent or slow the visible signs of skin ageing such as fine lines and wrinkles, brown spots and loss of radiance. It's even more potent in skin firming products when mixed with other antioxidants or nutrients. "If you combine Alpha-Lipoic Acid and Vitamin C Ester with DMAE, you can address every sign of ageing, and significantly, if not completely, remove the look of lines, wrinkles, discolouration and loss of firmness that are inevitable," says Dr. Perricone. 
DMAE in Perricone MD skin-firming products
Because DMAE is a signature science ingredient, it's featured in several Perricone MD skin firming products and supplements, including:  
In this serum, DMAE is paired with a super potent yet gentle form of vitamin C to visibly firm the appearance of sagging facial skin instantly and over time, as well as smooth and brighten discolouration. In clinical results, a whopping 88% of women saw an increase in firmness after 28 days of use.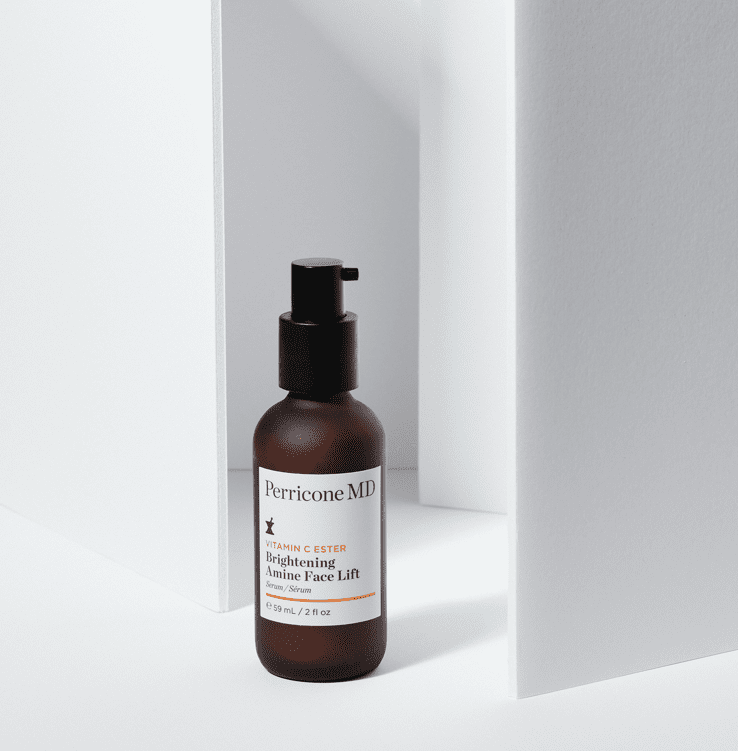 DMAE gives sagging skin a visible lift, while vitamin E and kukui nut seed oil add intense moisture without feeling greasy on skin. In consumer results, 76% of women who used the moisturiser said their skin felt tighter and firmer.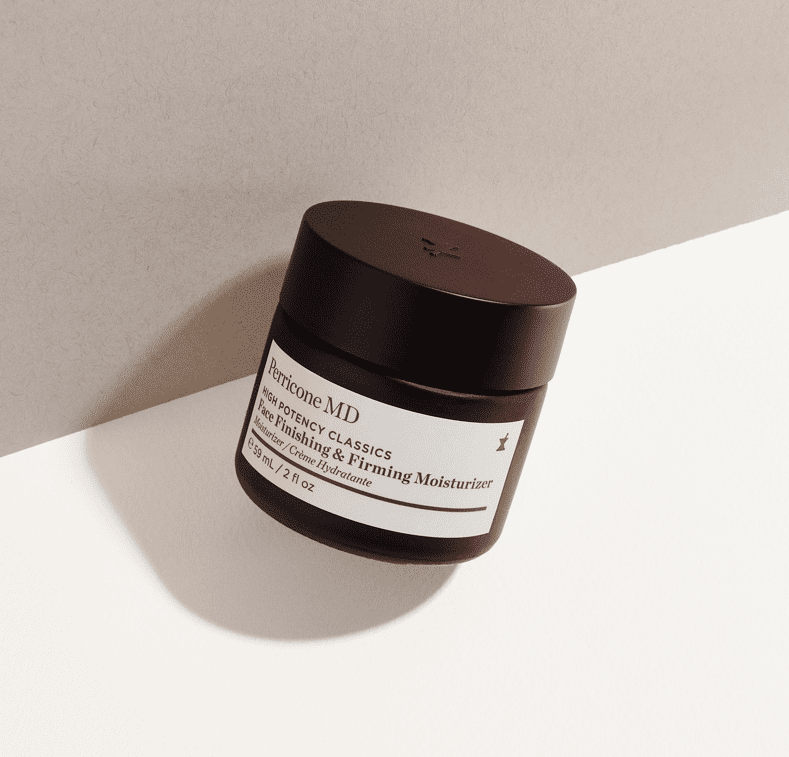 This cream targets sagging skin along the jawline and neck. DMAE visibly firms and tones, caffeine provides a tightening effect on the lax skin and peptides deliver long-term smoothing benefits. In Perricone MD's consumer results, 85% saw an improvement in skin texture around the neck, chin, and jawline area.  
In the latest of Perricone MD's skin firming products, DMAE visibly firms skin and tightens sagging skin along the eye area. Polyamine Growth Factor visibly boosts eye skin's elasticity, while niacinamide helps promote more even under-eye skin tone, making it the best serum for fine lines and sagging skin. In a clinical study, 88% of participants saw a reduction in under-eye puffiness and showed improvement in skin elasticity.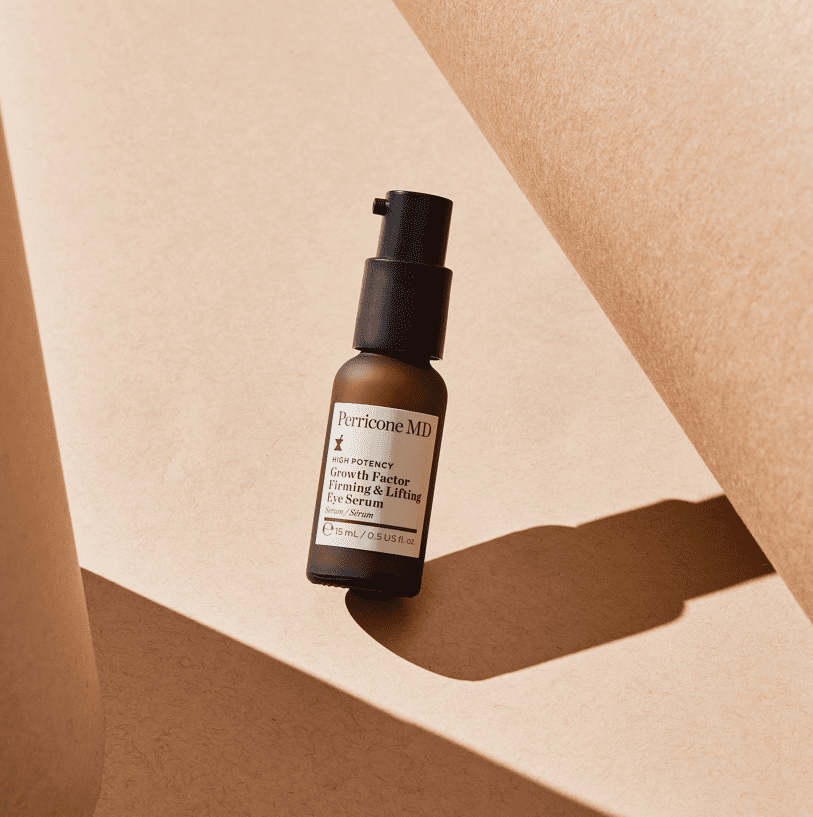 DMAE: The sagging skin solution
We're often told that the only option to firm up facial and body skin that's lost its elasticity is to turn to expensive, invasive procedures, but power ingredient DMAE provides a non-surgical approach to visibly firm sagging face skin.