A summer complexion can go one of two ways. It may bless you with a radiance accompanied by a scatter of dainty freckles. Alternatively, it can plague you with a parched forehead, shifting makeup and an extra-oily t-zone. This is because the sun is a fickle friend when it comes to our skin. While it can add a touch of warmth to the face, it can also leave a scalded shade of red. Its source of vitamin D can help prevent premature aging, yet its harmful rays do exactly the opposite. Therefore to use the sun to your advantage, it's important to follow some summer skincare tips.
Keep reading to uncover our top advice to avoid the hindrances of the sun yet still cash in on that sun-kissed glow.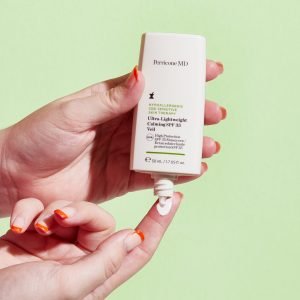 Incorporate SPF Skincare into your routine
The first of the summer skincare tips is likely the most obvious. You simply must have some sort of SPF skincare in your face routine. Even if the sun is being hidden by clouds, a layer of broad spectrum SPF is still essential to protect the skin against those damaging UVA and UVB rays.
Some argue that SPF skincare can make the skin feel heavy and congested. This is why it's important to look for a daily reliable which is lightweight and non-comedogenic, meaning it will work as a thin veil, gliding over pores instead of seeping into them. Perricone MD's Hypoallergenic CBD Sensitive Skin Therapy SPF is the perfect summer choice as it delivers powerful protection from those rays whilst also leaving the skin feeling calmed and soothed. This is thanks to the nourishing Cannabidiol and skin-softening Cannabis Sativa Seed Oil ingredients.