It has become way too easy for our days to all run together in our new, surreal stay-at-home lifestyles. If you've skipped a shower, lived in pajamas, or slept in later than you have since your teens, you are most definitely not alone. Good habits are now regularly being broken (slacking off on your skincare routine, anyone?), and not-so-great ones are taking hold.
It's hard to keep a routine going when you're not going anywhere… and not just today, but for the foreseeable future. And while we may have even welcomed the respite from our hectic schedules at first, we're now deep enough into shelter-at-home for the lack of routine to actually be detrimental to our well-being.
That's because research regularly shows that having a routine — a set of habits or things you do everyday — is essential in keeping our brains feeling safe and secure. It's the right conditions for our brains to thrive.
According to a study from Tel Aviv University, repetitive behaviors reduce anxiety. Another study published in Psychological Science found that people who experienced connections and regularity found more meaning in their everyday lives. And who couldn't use a feeling of greater purpose and satisfaction right now, when it's easier than ever to get lost in fear and the struggle to maintain normalcy? Who couldn't benefit from a structure that helps your brain experience less stress in overwhelmingly stressful times?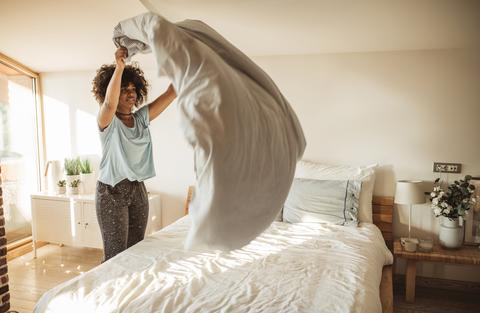 Having an orderly routine — from taking a shower first thing in the morning to making your bed, to a weekly Zoom happy hour with friends — can help us feel secure, happier and safer. Here, 5 ways to feel calmer through simple, everyday actions.
SET A SCHEDULE
While you may be able to sleep in later than you normally would, still set an alarm so that you're getting up at the same time every day.
Start your day with a workout, some meditating, FaceTime with a loved one, a few moments drinking a cup of tea before your kids get up — anything that makes you feel good and starts your day off on a positive note.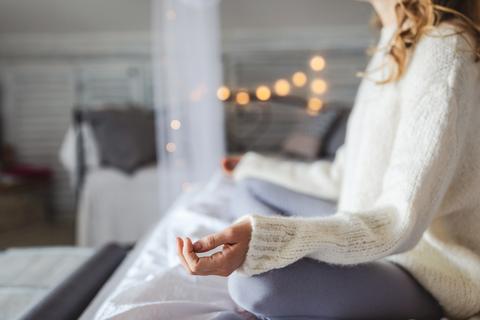 Try to eat meals at times you normally would (this also helps keep you from packing on boredom or stress weight). Put virtual dates, calls, closet — organizing time, anything that matters to you on your calendar so that it's scheduled with a specific time. Doing so will give flow and a sense of normalcy to your days. And of course, stick to a healthy bedtime, as sleep is key in relieving stress and anxiety, as well as regulating your emotions.
GET DRESSED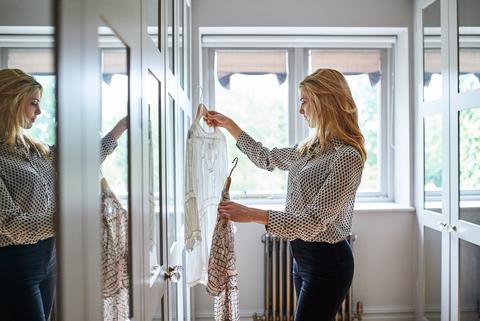 Aristotle once said that "Men acquire a particular quality by constantly acting a certain way." That was the old-school way of saying "get up, dress up and show up."
Don't give away your confidence and energy by not continuing to do the things that make you feel more professional, more put together, and more productive.
You wouldn't show up to work or dinner with your friends wearing ratty old sweats and unwashed hair, so why do it now? Studies show that what we wear affects our behavior and mood. There's even a scientific term for it: Enclothed Cognition.
WASH YOUR FACE
There's a reason why Girl, Wash Your Face (by Rachel Hollis) was a bestseller long before we'd ever heard of Covid-19. Gaining strength is about taking action, beginning with the smallest things… like continuing your daily skincare routine. You are important enough — and your skin is important enough — to stay the course. After all, it will be with you long after we are allowed to leave the house again.
PUT ON A LITTLE BIT OF MAKEUP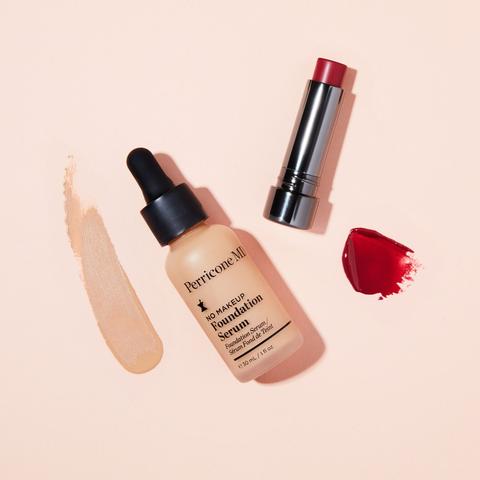 Creating an easy, no-makeup makeup look only takes a few minutes but can do wonders in helping you to feel like the days have a normalcy to them. Makeup artist Rosalba Martone created this quick and simple routine:
Start with No Makeup Foundation Serum. It creates a natural-looking, dewy complexion, thanks to alpha lipoic acid, an antioxidant and helps skin texture look smoother, reducing the look of fine lines and pores. Use your finger to pat and press wherever you need coverage to smooth out your skin tone.
For a radiant glow that looks fresh and natural, mix a bit of No Makeup Blush with No Makeup Highlighter, and use your fingers to apply to the apples of cheeks. Blend upward towards the top of the ears. Or, mix Blush with No Makeup Bronzer for a bit more color as we're heading into summer.
You can also apply a tiny dot of No Makeup Bronzer to the temples, in the hollows of cheekbones and along the bridge of the nose for a very subtle contoured effect.
Using a very light touch, apply No Makeup Eyeshadow from lash lines to brows. The satin finish wakes up the eyes without looking like makeup.
Apply No Makeup Mascara to your lashes, focusing the majority of the application in the center of the eye to give a bit of a wider, brighter effect.
Finish with No Makeup Lipstick in a shade like Original Pink, which is like your lips but with a bit more oomph.
SCHEDULE AN HOUR A DAY TO LEARN SOMETHING NEW
Keep each day feeling fresh and positive by choosing a few things you've always wanted to learn but never had the time.
Perhaps it's cake decorating, or working your way through a Julia Child cookbook. Maybe it's painting with watercolors, or writing that novel you've always said you would if you had time. There are plenty of online programs and classes (many free or discounted right now) that can help you achieve your goals in the one hour a day you set aside for this.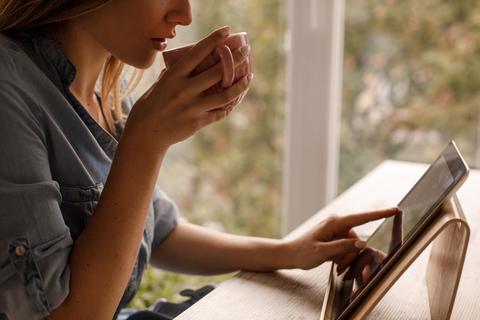 As we all adjust to our new shelter-at-home lifestyles, it's easy to not only lose track of our days, but our schedules too. But now is the time when having a routine is most important — for our health, our skin and our mental sanity. Try keeping it easy: stay organized, and pamper yourself with a simple beauty routine, like a no-makeup look that helps you feel refreshed.