When you invest in a skin-care product, you want it to really work. We get it. Who wants to shell out hard-earned cash for a product that does nothing more than look pretty on top of your vanity? You want results. And there are a number of high-performance ingredients that are going to give them to you. Topping the list: retinol.
Fewer skincare ingredients have a better track record than the well-known anti-ager.
Retinol is a tried-and-true active ingredient, proven through decades of peer-reviewed scientific research to be highly effective for your skin. Most dermatologists consider it (along with its prescription-strength cousins) the gold standard for topically treating lines, acne, uneven tone and texture, and more.
The use of retinoids in skin-care dates way back to the 1970s. Originally, dermatologists tapped the topical vitamin-A for acne-prone skin. But at some point, they started noticing an unexpected side effect: Retinoids not only cleared their patient's breakouts, but wrinkles, too. And so, topical retinoids became a go-to for aging skin.
So, what is retinol and exactly what can it do for your complexion? Here, we tackle the five W's of this anti-aging super star.
WHAT IS RETINOL?
Retinol is a derivative of vitamin A, and belongs to a larger category called retinoids. There are prescription retinoids (tretinoin, tazarotene, and adapelene) and over-the-counter versions (retinol, retinaldehyde, retinal palmitate). Retinol is the strongest of the over-the-counter variety. Unlike prescription retinoids, which contain retinoic acid as their active ingredient, retinol has to be converted by your skin to retinoic acid before it can do its job. It's because of this extra leg work that it's not quite as strong as its prescription counterparts. However, that doesn't mean it's less effective. Studies have shown you can get the same benefits as prescription-based retinoid, but it may take a little longer to get there (about 12 weeks). And retinol is also known to be less irritating than prescription-strength retinoids. It's important to note that those other, weaker, over-the-counter retinoids we mentioned don't have the same power as retinol.
WHY DO I NEED IT?
Retinoids, including retinol, speed up cell turnover, helping dull, damaged skin cells slough off the skin's surface faster (a process that starts to lag with age), uncovering fresh, healthy skin.
That means a more radiant, even-toned complexion. And through this process, pores get a de-clogging, too, which is why they appear smaller and tighter. Retinol also promotes tighter, firmer, collagen-rich looking skin. Collagen slows with age, too, and can be damaged by UV rays.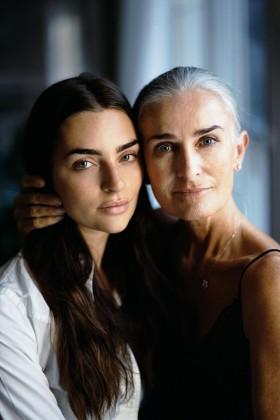 Credit: Pinterest
WHO IS IT FOR?
Retinol is for anyone spotting the telltale signs of aging on their skin, even in the earliest of stages: dullness, uneven tone, fine lines, enlarged pores, etc. The ingredient can be a bit irritating for those with sensitive skin, but you can strength train your fragile complexion and get to a point where you can tolerate the potent vitamin A derivative (read on for the how-to). Who can't use it? Prescription retinoids aren't recommended for pregnant women (high doses of vitamin A can be harmful to an unborn baby), so talk to your doctor about products containing over-the-counter retinol.
WHEN TO USE IT?
Many people apply retinol at night, when their skin is naturally in repair mode. However, there's no hard-and-fast rule that says you can't wear it during the day, too. In fact, experts say it's a common myth that you can't wear retinol in sunlight. But because retinol encourages fresh, healthy skin, topping it with SPF 30 sunscreen is a must.
If you have sensitive skin, you can start off using retinol as infrequently as every third night (or day), working your way to every other day. Then, if you're not feeling any stinging or seeing any redness, increase to daily use.
WHERE TO USE IT?
Because retinol is a major multitasker and works by speeding up cell turnover, you want to spread a thin layer all over your face, not just on specific lines or spots.
You can also venture below the chin and apply it anywhere you see the signs of aging: neck, décolletage, and even the tops of your hands.
PERRICONE MD'S LATEST RETINOL INNOVATION
Perricone MD has combined all the research-backed benefits of retinol with cutting edge technology and other top-notch skin ingredients to create one stellar anti-aging treatment: High Potency Growth Factor Firming & Lifting Serum. The twice daily treatment not only includes encapsulated retinol, but also polyamine growth factor and eggshell membrane, as well as the potent niacinamide. All those heavy-hitters in one product work together to promote skin that appears plump, smooth, radiant, and visibly firm. Here is a deeper look at this powerhouse combination of active ingredients: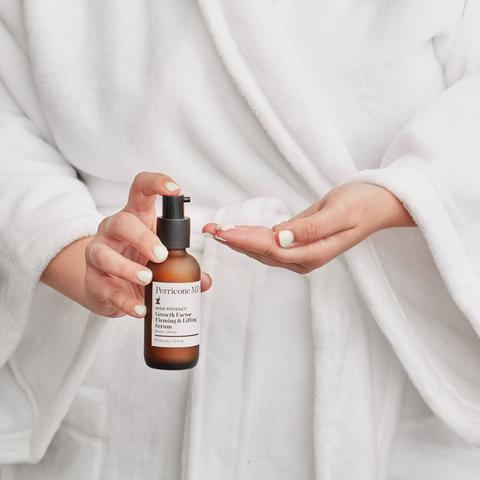 ENCAPSULATED RETINOL:
One of the only downsides of the anti-aging ingredient is that it can be highly unstable. When the molecule is exposed to sunlight, air, and temperature changes (in the bottle, not once it's on your skin), it can break down and become pretty useless. The retinol used in our High Potency Growth Factor Firming & Lifting Serum is encapsulated, which means it's housed in a polymer-based shell that keeps the ingredient safe and stable, allowing it to remain active and potent as it penetrates your skin. It also allows for a more targeted and controlled release, which can also help cut down on any irritation.
POLYAMINE GROWTH FACTOR:
Think of a growth factor as your skin's version of an influencer. It tells the skin to look and act younger than it actually is. Our body has its own natural store of growth factors, but as we age, that supply starts to dwindle down. Applying growth factors topically from natural, or in Perricone MD's case, synthetic sources can help restore skin's youthful appearance. With polyamine growth factor, skin is left softer and smoother.
EGGSHELL MEMBRANE:
Made from that thin, water-soluble layer that lines the inside of an egg, egg shell membrane supports skin's moisture barrier, helping it hold on to water and look supple and plump as a result.
NIACINAMIDE (VITAMIN B3):
This vitamin doesn't get the glory retinol gets, but don't be fooled: it's a workhorse in a skin-care treatment. The B vitamin helps the appearance of uneven skin tone and strengthens skin's barrier, locking in moisture and protecting skin against environmental agressors.
Polyamine growth factor, eggshell membrane, and niacinamide complement the encapsulated retinol and work synergistically to give skin a lifted, smooth, and more radiant appearance. It's suggested that Perricone MD's retinol product, High Potency Growth Factor Firming & Lifting Serum, be applied morning and night. If your skin is sensitive, start off with a once a day application (or less if you can't tolerate it), and slowly build up to the twice daily recommendation.